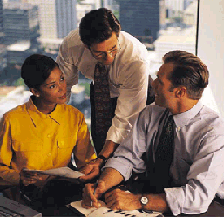 Lackawanna Insurance Group is a subsidiary of Delaware Life Insurance Company and its parent company, Group 1001.  Headquartered in Wilkes Barre, PA, Lackawanna Insurance Group has been writing workers' compensation business exclusively in the State of PA for over 75 years.
Currently one of the Top 10 writers of workers' compensation in the State, Lackawanna Insurance Group is Rated "A-" (Excellent) by A.M. Best with a Financial Size Category Rating of Class VIII.
Lackawanna offers its workers' compensation product through a network of carefully selected independent insurance agencies.  Each of our appointed agencies enjoys an excellent reputation in the industry and shares in our Company's philosophy and approach to doing business.
With an exclusive focus on workers' compensation insurance, and regional service teams located throughout the State, Lackawanna Insurance Group is able to provide a level of service and expertise to our valued agents and loyal policyholders that is unmatched in the industry.
PA Workers Comp Insurance Specialists